If you're placing manual orders on Printful, you simply pay at the end of the order process, and your order goes through. However, if you connect a store, then two transactions take place:
A customer purchases a product from your store, and

they pay you

using your store's payment platform.

The order comes through to us from your linked store, and then

we bill you

for the fulfillment of that order.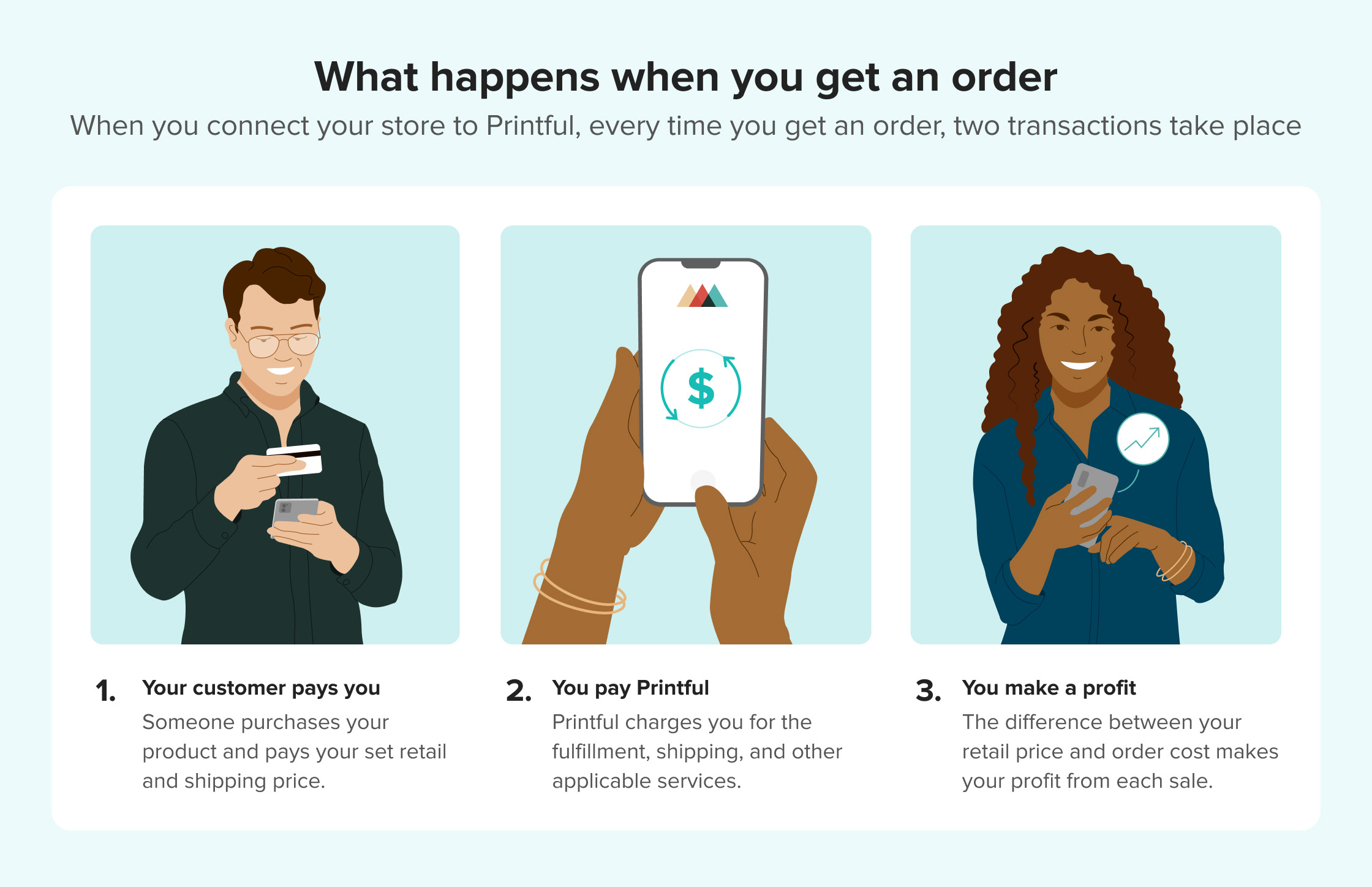 Use our Payments and pricing guide to learn more about Printful's billing, review Printful costs, and learn how to price your products to make a profit.
Why can't online store owner's customers pay Printful directly?
Printful works as a white-label printing service on behalf of online store owners. In this case, the online store owners, meaning you, pay Printful for a service. In most cases, your customers buy from you via a store or marketplace. Since Printful doesn't host the store platform, it's not involved in that transaction between you and your customer.
What is the Printful Wallet?
The Printful Wallet is an internal Printful payment system through which all transactions go through. It ensures quicker payment processing (e.g., in refund scenarios) and fewer transaction errors.
Printful Wallet is located in your Dashboard, and you can manage it manually by adding a specific sum for every incoming order to cover fulfillment costs. In such a case, it's important to remember that if there's not enough money in the Printful Wallet, product fulfillment won't start.
To help you save time on micromanaging finances, you can set your Printful Wallet to work automatically by enabling the auto-recharge feature. When your Printful Wallet's balance is lower than the price of product fulfillment, the amount you set in auto recharge will be automatically deposited to your Wallet from your primary billing method. You can register a credit card or PayPal account as your primary billing method.
You can always request to take the funds out of the Wallet. In this case, the funds will return to the same payment method they were deposited from. Keep in mind that withdrawal works only for the entire amount of the Printful Wallet, so you won't be able to choose a specific amount to withdraw.
If there's a scenario where you require a refund from Printful, the funds for that will be deposited into your Printful Wallet.
How do different currencies work?
Printful will charge you in the currency you choose on Printful's end as your store currency. It doesn't matter where your orders are fulfilled or shipped, we will use your Printful store's currency or the display currency if you do personal orders.
You can learn more about how billing works with Printful from the video below or in our in-depth Printful Academy lesson.
A couple of things to note:
If using PayPal and you receive an

Address verification failure

warning, it means the shipping

address submitted to Printful doesn't match the address submitted to PayPal

when your customer went through their checkout process.

If your card is registered outside of the US, you should check with your bank if international payments are enabled. Also, check that online payments are enabled for your payment method.