Picking out the right product images for your storefront is important. It's also important that the products in the images look as close to reality as possible. That's why we're constantly working on new mockups and existing mockup improvements, which means you may have to or want to update the mockups on your store from time to time.
Some of our integrations support adding new mockups for products through the store's integration for all variants at once. You can also add each new mockup manually.
How can I add new mockups in my Shopify, Etsy, Woocommerce, or Wix store?
For Shopify, Etsy, WooCommerce, and Wix you have the option to edit your mockups right through your store on Printful. To do so, follow these steps:
Go to

Stores,

choose the

store you want to edit the mockups in and press

View store.

Pick the product you want to edit the mockups for and press

Edit.

You'll see a list of product variants you've added to your store. Select them all and press

Change print file.

You'll see the Design Maker view with your product. If you only want to change the mockups, don't make any changes to your design and press

Proceed to mockups.

Select the mockups you wish to display on your storefront.

Wait for them to upload.
Watch the process in action: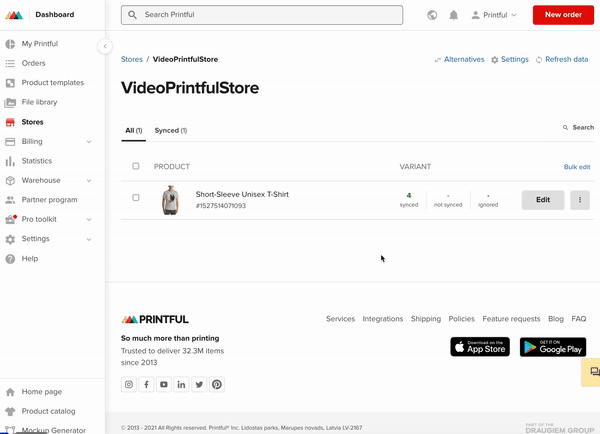 How can I manually add new mockups?
For integrations not mentioned above, you have to add new mockups manually. Here's the process:
Use our

Design Maker

to add your design and generate mockups. Download them to your device.

Go to your store on the ecommerce platform you use.

There you'll be able to add the downloaded images to your product's listing.
There's also another option:
Go to the ecommerce platform you use, pick the product you want different mockups for, and delete the listing.

Then, go to

Stores

in your Printful Dashboard, find the store, and press

Add product.

Find the product in our catalog, add your design, and pick out the mockups you want in the

Mockups

step.

Go through the remaining steps to add the product to your store.
When should I change my mockups?
We suggest changing up your mockups once in a while to refresh your store and experiment with product pictures to see how they can drive your sales. You can also pick from our variety of themed mockups to decorate your store for different celebrations or sales. For example, Valentine's Day, Halloween, and others.
We also do regular check-ups to make sure our mockups display the products as accurately as possible. Sometimes we notice some inconsistencies and decide to make updates to our existing mockups. Once we do that, we'll let you know what changes were made to products you already have in your store. Then you should reupload your mockups.