Printful is completely white-label, meaning there is no Printful branding anywhere on an order's packing slip. Here is the info that gets included on each packing slip:
The products included in the order




- If an order is split into two shipments (because it contains products that are packaged differently), there will be a note on the packing slip.

The return address


- By default, we use Printful's address as the return address. If you prefer to use your own address, you can change it by going to Settings > Stores > Returns.
A personalized message (optional)
- You can add a personalized message to your packing slips. Go to Printful Dashboard > Settings > Stores > Branding.
- You can also add a personalized gift message on manual or API orders by checking Include a personalized message on the order review page.

Your logo (optional)


- We can print a black-and-white design on the corner of the packing slip. To upload one, go to Printful Dashboard > Settings > Stores > Branding.
Here's an example of what our packing slip looks like with an added logo and personalized message: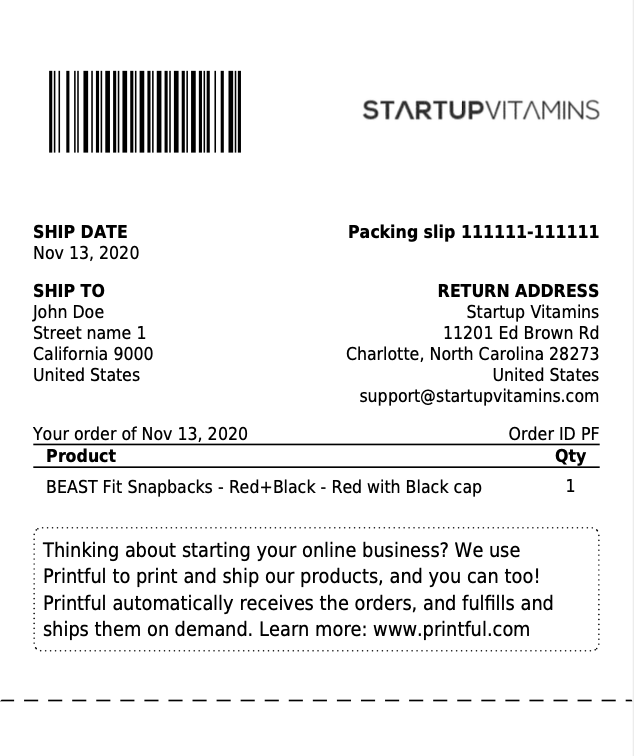 * In compliance with Proposition 65, orders with our Vintage Cap | Otto Cap 18-1248, Snapback | Otto Cap 125-978, 5 Panel Camper | Otto Cap 151-1098, Mesh Back Snapback | Otto Cap 154-1124, Knit Beanie | Otto Cap 82-480, Distressed Dad Hat | Otto Cap 104-1018, Tough Case for iPhone, Clear Case for iPhone, Speckled Case for iPhone, Clear Case for Samsung, Wooden Ornaments, and All-Over Print Premium Face Mask going to California will have a disclaimer on the packing slip about chemicals in the inks used to print these products.
In case our average fulfillment times drop due to unexpected order volumes, we may fulfill part of your orders in our trusted backup facilities. This helps speed up the production process for you and your customers. Note that orders routed to our backup facilities and partner fulfillment centers won't have customization options for packing slips or logo printing on the package. If you wish, you can opt out of fulfilling orders at backup facilities.