Printful is completely white-label, meaning there is no Printful branding anywhere on an order's packing slip. Here is the info that gets included on each packing slip:
The products included in the order




- If an order is split into two shipments (because it contains products that are packaged differently), there will be a note on the packing slip.

The return address


- By default, we use Printful's address as the return address. If you prefer to use your own address, you can change it by going to Settings > Stores > Returns.

A personalized message (optional)


- You can add a personalized message to your packing slips. Go to Printful Dashboard > Settings > Stores > Branding.
- You can also add a personalized gift message on manual or API orders by checking Include a personalized message on the order review page.

Your logo (optional)


- We can print a black and white design on the corner of the packing slip. To upload one, go to Printful Dashboard > Settings > Stores > Branding.
Here's an example of what our packing slip looks like with an added logo and personalized message: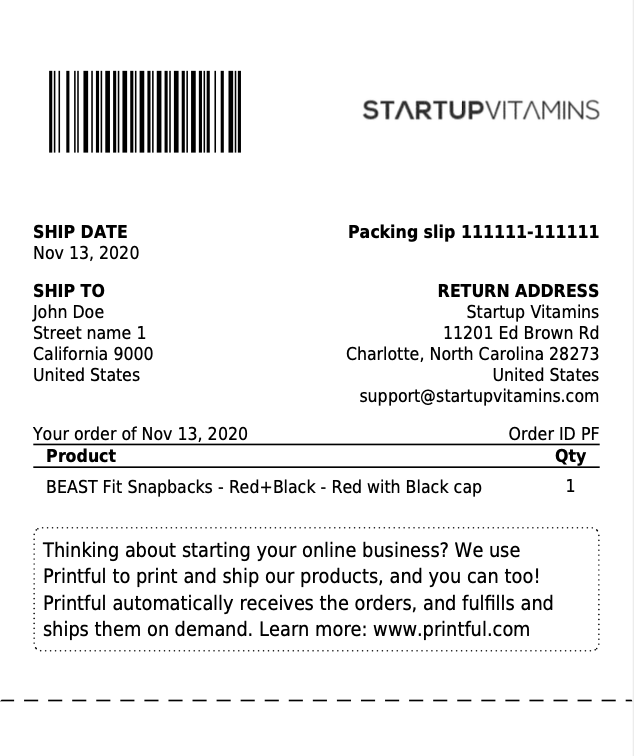 * In compliance with Proposition 65, orders with our All-Over Print Athletic Long Shorts, Athletic Short Shorts, Vintage Cap | Otto Cap 18-1248, Snapback | Otto Cap 125-978, 5 Panel Camper | Otto Cap 151-1098, Mesh Back Snapback | Otto Cap 154-1124, Knit Beanie | Otto Cap 82-480, and Distressed Dad Hat | Otto Cap 104-1018 going to California will have a disclaimer on the packing slip about chemicals in the inks used to print these products.
In response to Covid-19, we're fulfilling part of our orders in partner backup facilities. Orders routed to these facilities won't have customization options for packing slips or logo printing on the package.