Yes, funds that have been deposited to your Printful Wallet, and that are available (e.g funds that haven't been used for order fulfillment), can be withdrawn and refunded back to your original payment method. Wallet withdrawal works for the full Wallet amount, which means you cannot choose a specific amount to withdraw.
How this works:
When withdrawing funds from your Printful Wallet, we'll start by refunding the most recent Wallet deposit. If you've made several deposits to your Wallet, we will refund the next most recent deposit transaction and so forth, until all funds are withdrawn.
This means that a single withdrawal can sometimes be split into several refund transactions to your credit/debit card or PayPal account, depending on the method with which the funds were deposited to your Printful Wallet.
How to withdraw funds from your Printful Wallet:
In your Printful Dashboard, go to Billing > Wallet. Click on the Wallet from which you'd like to withdraw funds (they are sectioned by currency). Choose the Withdraw tab and check the confirmation box. Then, click Withdraw.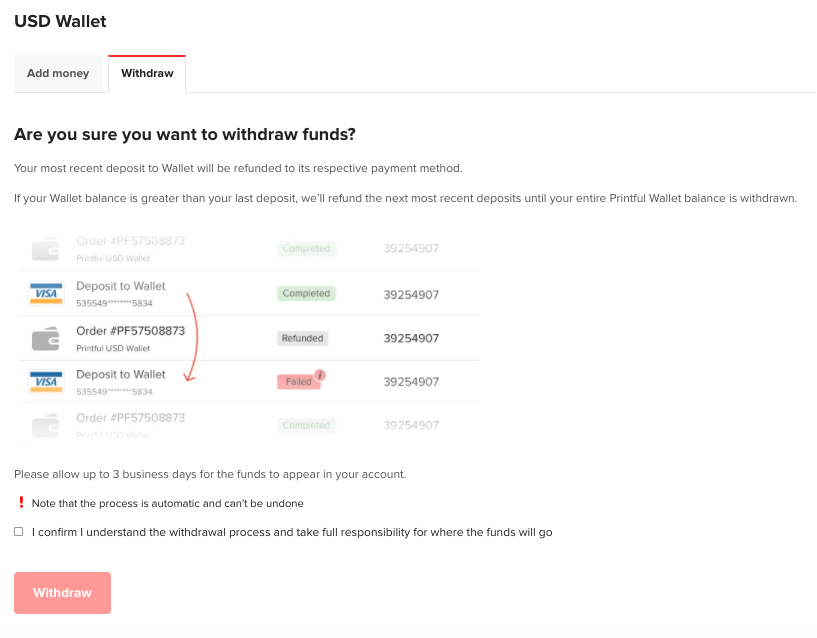 Done! The funds will appear in your account within three business days.
Important things to note:
The withdrawal process is permanent and can't be undone.

You can only withdraw the funds you've deposited yourself. Wallet deposits received through contests such as Printful Jackpot, for example, cannot be withdrawn.