Amazon requires that the products you sell on its marketplace have a GTIN (Global Trade Item Number). However, if you sell products through Printful, they won't have a GTIN. So you have to request exemption from Amazon.
If you're setting up with the Printful + Amazon integration, the final step is submitting your GTIN exemption to Amazon: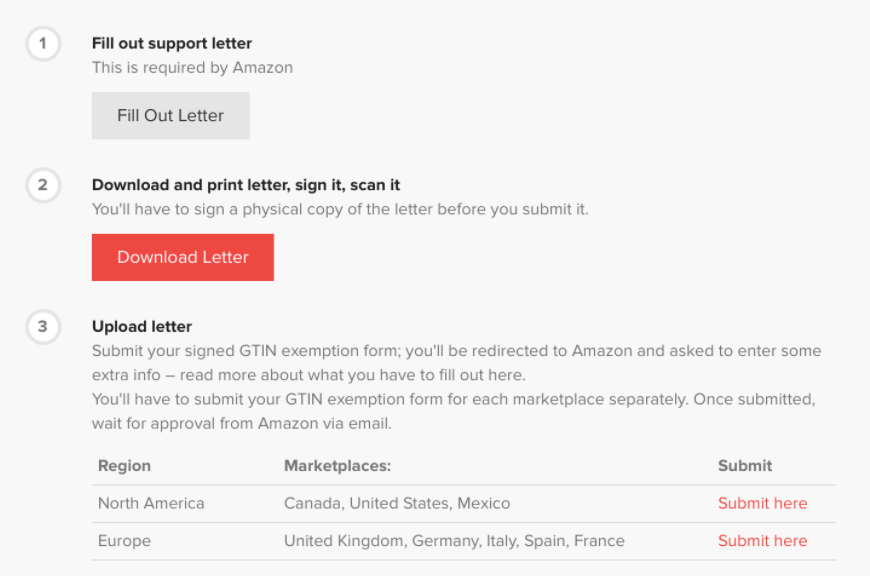 When you click the "submit" button, you'll be redirected to this page on Amazon:
Here you'll have to enter some extra info about your brand:
Enter that you're requesting an exemption for branded products because you sell private label products.

Select that you do have a brand support letter.

Enter the product categories you sell and a link to your website (or downloadable images of your products). Printful products fall under 7 categories:




- Cell Phones & Accessories




- Clothing & Accessories


- Shoes, Handbags & Accessories
- Luggage & Travel Accessories / Backpacks


- Home & Garden


- Sports
- Jewelry


Upload your brand support letter and wait!
After you submit your request, you'll have to wait a few days for Amazon to review. They'll send you an email once it's been approved.
If you want to request GTIN exemption for new products later:
Go to your Printful Dashboard → Stores → View Store → Settings → Amazon GTIN Exemption. Then follow the steps to submit a new GTIN exemption request.