Printful's sample program allows eCommerce store owners to order products with a 20% discount and free shipping to select destinations. Sample orders let you test the quality of Printful products and see how your designs look in real life. We also recommend ordering samples to create unique mockup photography and social media giveaways.
Your monthly sample order limit grows with your store:
Each registered Printful customer qualifies for 1 sample order each month, with a maximum of 3 items per order. Note that sample orders are available for eCommerce store owners only. Sample orders reset on the 1st day of every month.

You get an additional sample order when your monthly accumulated sales reach the following thresholds:

$100

,

$300

,

$500

, or

$1,500

. The maximum number of monthly sample orders per customer is 5 orders, with a maximum of 15 items. Your monthly accumulated sales are calculated with this formula: Total order sum − discounts − shipping − tax/VAT + digitization + Printful services (warehousing, design, photo, video, store setup, etc.)
Your sample program will be reset to the order/item maximum according to your last month's accumulated sales. You can view your current monthly sample allowance and a forecast for next month in the Discounts section in your Printful Dashboard.
When you add an integration or finish any other task from Printful challenges, you get points that you can exchange for Printful Perks like an extra sample order. Learn more in the Printful challenges block on your Dashboard.
Important things to note
Free shipping applies only to select destinations:
Sample orders shipped from the USA and Mexico ship for free to Canada and the USA (including territories of the United States: American Samoa, Guam, Northern Mariana Islands, Puerto Rico, the Virgin Islands).

Sample order products fulfilled in Europe ship for free to the USA, Canada, and countries within our Europe's shipping region, except for Iceland, Liechtenstein, Norway, and Switzerland.

Sample order products fulfilled in our partner facility in Japan ship for free to customers in Japan.

Sample order products fulfilled in our partner facilities in Australia ship for free to customers in Australia and New Zealand.

Sample order products fulfilled in our partner facilities in Brazil ship for free to customers in Brazil.
See the list of countries applicable to Printful's shipping regions.
Customs fees are calculated based on the retail price you set in the order process:
In the first step of the order flow, you can edit the retail price to match our product price and keep the customs fees to a minimum.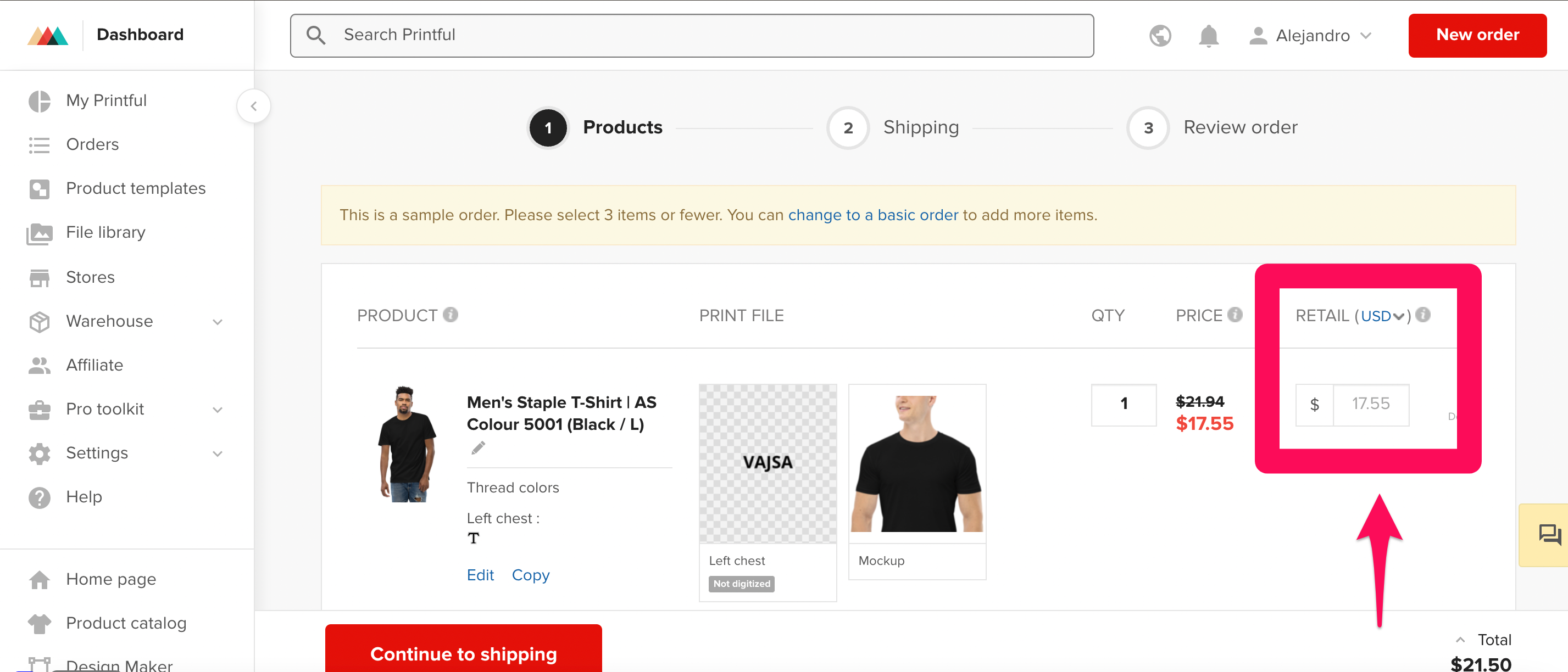 Certain wall art products are only available for sample orders in specific sizes:
Framed Posters (in) in size 8″ × 10″ and Canvas (in) in size 12″ × 12″ are available for sample orders.

Posters without frames are available as samples in all sizes.
Accounts abusing our policy will be deleted:
Creating a new account just to place a sample order violates our sample order policy.
Printful's coupon codes and gift cards cannot be used on sample orders:

Printful's coupon codes and gift cards can be used for basic orders only.